I'm playing along with
Jenny's Saturday Centus.
Melody
passed the link along to me and I had no intention of playing along, but that first sentence kept swimming through my mind and I had no choice. I thought it was supposed to be 100+ words starting with "The chair dominated the small room." I didn't realize that it was 100 words plus the first six words. I ended up at about 180 - oh well:)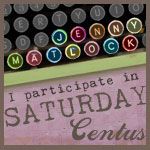 So, here are my 100+ words:
The chair dominated the small room. Vera was barely visible, slightly slouched over the quilt that she was hand stitching. It wasn't that long ago that she came to visit her grandma sitting in a similar position, in a similar chair, in this very room. She sighed deeply.
Ted was gone, had been for several years. The kids were all grown and married, heck even the grandkids were grown and married. They would call on holidays and come for a visit when they passed through town, which seemed less and less often. She couldn't blame them, but oh how she longed for their company. Pictures lined the TV console. All those cute faces smiling out at her. She was sure she could remember their names if she had enough time. Time, that was a funny thing. It had slipped away so quickly. Yet now, the days, the hours, the minutes alone in this house, in this room, in this chair dragged on.
"Vera," came the call from the other room. She sat up a little straighter.